Panacea offers sustainable, effective, high-quality growing materials.
Introducing our flagship product, Coco Coir - a planting substrate retaining up to 10x its weight in water
Coco Coir is great for seed starting, hydroponic systems, container plants, garden beds, and more.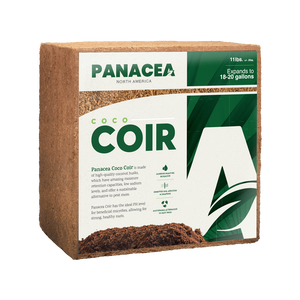 Coco Coir - Single 5kg Block
Sale price Price $12.00 Regular price Unit price / per
nutrient rich and ph neutral
Panacea Coco Coir
Panacea's signature Coco Coir is a sustainable planting material made from coconut husks, offering exceptional water retention and ideal pH levels for many planting needs.
Learn about Coco Coir
Solutions for a growing world
Panacea N.A. is dedicated to providing sustainable, effective, and high quality growing products for both home and commercial applications. We are excited to introduce new products soon.
Learn More